"One Website Can Reach Millions"
We can build a website to showcase your products or services and increase your sales dramatically.
digitalHQ™ is an Australian Web Design Firm based in Waikiki Western Australia that provides businesses of any size with professional and Affordable Web Solutions.
Being a small web design firm we don't have the huge overheads that the large firms do so we can develop a website for you at a much lower cost. We also pride ourselves on our AAA customer service which separates us from the rest.
Each website we build is unique and can range from a one page web brochure to a complex database driven eCommerce site with thousands of products so we work with you to establish the best solution for your business.
With our complete range of services we do everything in-house so you speak directly to the people that are developing your website so you can be sure it is built exactly the way you want it.
For a no obligation FREE quote contact us today.
Featured Website
Parcel Pick Up Australia
Parcel Pick Up is a refreshing new parcel pick up service providing a convenient way for Australian households to receive parcels via a point of pick up in their local community.
For further information visit the website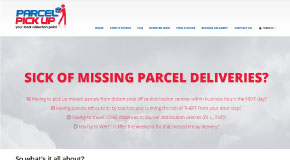 Recent Clients
Perth Institute Western Australia visit website
Baldivis Florist & Gifts visit website
Summit Fertilizers visit website
Unique 2 WA visit website
Shelford Constructions visit website
RMK Directories visit website
Dr Ammar Nagree (Specialist Gastro Enterologist) visit website
Instro West visit website
Celestial Insight visit website
Shelford Quality Homes visit website
Shelford First visit website